From the Pastor
Mensaje del Padre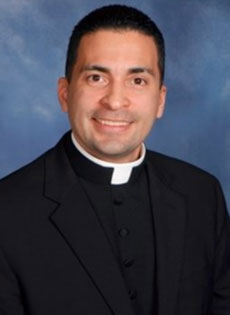 Dear Parish Family,
Thank you so much for the warm welcome that I have received from all of you in the last few days. I would like to reiterate what I expressed at all the masses last weekend. It is wonderful to be back "home" after being away for fifteen years. It is amazing how time flies; and yet, being back at St. John Neumann feels like getting reacquainted with old friends after not seeing each other in a long time. It is as if time hasn't passed, and we pick up right where we left off.
It is certainly a special grace from God and the idea of the Holy Spirit to bring me back to my first parish community as a priest. This is the place where it all started for me 18 years ago. It was here where I celebrated my first public masses, my first baptisms as a priest, my first confessions, anointing weddings, and funerals. It was here where I became a Knight of Columbus and did my Emmaus Retreat. You taught me to be a priest, and I have always carried you in my heart.
I look forward to continuing to build upon the foundations that were set forth by Fr. Hickey, Fr. Russell and Msgr. Navarro. We stand in the shoulder of giants, and I realize that I have big shoes to fill. My hope is that together, with the help of the Holy Spirit, we will continue to make of SJN a center of prayer and evangelization; a place where the future generations can come to know Christ; a community where we live day after day what it's like to love God and to love one another, especially the poor.
New beginnings and transitions are demanding, and they take time and patience. I ask you for your prayers, that the Holy Spirit may give me the wisdom that I need to be the leader that you deserve. I love you and I am so happy to be here with you.
May God bless you and keep you,
Fr. José N. Alfaro
Pastor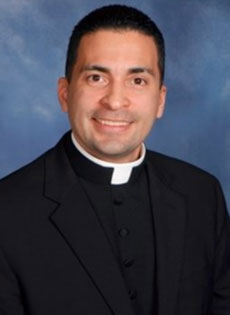 Mi querida familia parroquial,
Muchísimas gracias por la bienvenida tan acogedora que he recibido de todos ustedes estos últimos días. Me gustaría reiterar lo que expresé en todas las misas el pasado fin de semana : Es maravilloso estar de vuelta "en casa" después de estar fuera durante quince años. Es increíble cómo vuela el tiempo; y embargo, estar de vuelta en St. John Neumann se siente como reencontrarse con viejos amigos después de no verse en mucho tiempo. Es como si el tiempo no ha pasado; los lazos de afecto que nos unieron, continúan hoy.
Es ciertamente una gracia especial de Dios y la idea del Espíritu Santo el traerme de vuelta a mi primera comunidad parroquial que yo serví como sacerdote. Este es el lugar donde todo comenzó para mí hace 18 años. Fue aquí donde celebré mis primeras misas públicas, mis primeros bautismos como sacerdote, mis primeras confesiones, unciones, bodas y funerales. Fue aquí donde me incorpore a los Caballeros de Colón e hice mi Retiro de Emaús. Ustedes me formaron como sacerdote, y siempre los he llevado en mi corazón.
Anticipio poder seguir construyendo sobre las fundaciones establecidas por el P. Hickey, el P. Russell y Mons. Navarro. Nos encontramos llevados en los hombros de estos gigantes, y yo sé que tengo una misión fuerte para seguir sus ejemplos. Mi esperanza es que todos juntos, con la ayuda del Espíritu Santo, mantengamos a St. John Neumann como un centro de oración y evangelización; una parroquia donde las generaciones futuras vengan a conocer a Cristo; una comunidad donde vivimos día a día el amor a Dios y a todos, especialmente los mas necesitados.
Comienzos y transiciones siempre demandan mucho de todos nosotros, y requieren tiempo y paciencia. Les pido que recen por mi, que el Espíritu Santo me dé la sabiduría que necesito para ser el líder que ustedes merecen. Los amo con todo mi corazón, y les confieso mi gran felicidad de estar otra vez con ustedes.
Que Dios los bendiga y los guarde,
P. José N. Alfaro Párroco
Padre